The Vista Sun Wheel
(a medicine wheel).
The Vista Medicine Wheel was constructed on our church property to honor the ancient people nearby who also built just such an observatory. Theirs was larger and more complex, tracking rising stars as well as the equinox and solstice.
The Vista Sun Circle is 63 feet/19.2 meters in diameter thus 197.8 feet/ 60.2 meters circumference. The circular edge and central cairn are made of broken limestone, 4 to 12 inch random. The bed is decomposed ½ inch granite with fines, standard landscape material for southern Arizona. The center post is marked by a sandstone block about 30inch/75cm tall. That post is nearly buried due to recent addition to the mass of the cairn.
The solstices and equinox are indicated very well. This site has irregular horizons (mountains) and this is compensated for by the 6 U shaped viewing stations. Note, this will make most sunrise "late" and most sunset "early". Our truest level view and most accurate sunset time is during sunset, winter solstice. We work with what we are given! Amen.
Suggested visiting times: 1 hour before sunrise to 1 hour after sunset and all daylight hours. If the office is open check in as a courtesy.
Sturdy shoes are best to walk the gravel path. In warm weather wear a hat, bring water and watch for desert denizens! The toughest creatures I have seen in the time of construction were several horned toads and one gecko. These are a blessing from nature, live closest to the earth and see all. Please remain in the graveled area, do not go into the brush. Church policy does not allow overnight tenting/camping/RV parking on church property. Thank you for your consideration.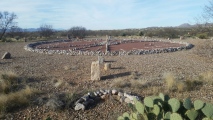 Photo Credit: James Bleess