Hi! My name is Rev. Fred C. Baum. I am the Pastor of Vista Church. I started here in 2015 and pray I can serve here until I retire. I spent my childhood in the forests of Arizona and New Mexico. My dad was a Forest Ranger and we moved often while growing up. I inherited my dad's love for the outdoors and have spent much time hunting, fishing and hiking. Today, in the early mornings and late in the evenings I walk with God in prayer, enjoying the beauty of His creation. I have a Master of Theology degree from Perkins School of Theology in Dallas Texas. My emphasis was evangelism. My undergraduate degree is in Anthropology/Archaeology from the University of Arizona. I was studying to be a Biblical Archaeologist, but God had other plans. My theology could be described as traditional and orthodox. I preach from no other text than the Bible. I have served 3 churches before being appointed to Vista Church. I was the Children's and Youth Pastor at Kavanaugh UMC in Greenville Texas for 3 years. I served at First UMC of Mesa Arizona for 21 years, again working with children, youth and young adults. I went on to serve at Christ Church UM for 10 years as Senior Pastor. I have been in full time ordained ministry for 40 years. My loving wife is Deede. We have been married for 40 years and have 3 children and 2 grandchildren. We are very blessed in that my middle daughter Amy and her husband Austin and their two children Ivy and Roman live here in Tucson. My son Kevin also lives here in Tucson about a mile from our home. My oldest daughter Sarah lives in Mesa where she teaches English and solves computer problems (IT) for the teaching staff at her school. We all love Jesus and are honored to be able to serve wherever God has called.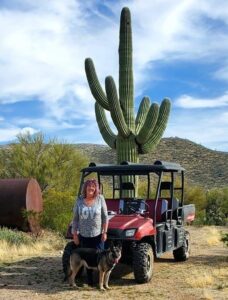 Valerie Hammons, Pastoral Minister
My name is Valerie Hammons, I am the Pastoral Minister and the Director of Family Ministries.
It is such an honor to be working with our children, youth, young people, and families and blessed to be part of the new member/evangelism team for Vista. I also spend a little time in the financial office doing payroll, bills, and taxes.
I was born in Kansas City (Go Chiefs!) but have lived in Tucson since I was one year old. I am the proud mother of two adult daughters and the best two grandsons ever. My fur baby is a 75 lb. German Shepherd named Cheyenne.
Mountains are my favorite and all the beauty our desert has to offer is just amazing. My new favorite hobby is taking the family out on my 4X4 and enjoying God's masterpiece.
I was raised as a "Bus Baptist" and know all the songs that go along with long church bus rides. I am thrilled to be able to share the joy of missions, camp, bible stories, and the Love of God with the families here. Spending a week in Kansas City with over 3,000 Methodist Youth in 2019 was a super highlight. I am also a VBS lover. A week of pure love, fun and friends.
God is good! All the time!
Come join us here at Vista! I can't wait to get to know you and learn more about your journey!
Carolyn Dwyer, Interim Choir and Bell Director
Mary Bellah, Accompanist/Organist
Mary grew up in Hubbard, Ohio and began taking piano lessons at age seven and continued piano/organ studies through her college years at Anderson University, Anderson, Indiana. She has been on staff with several churches and choral groups in Kentucky, Ohio, California, and Arizona. Her musical styles include classical, standards, and jazz. Her musical understanding goes beyond playing notes; she communicates the heart and soul of a tune.