Family First
Family First Pregnancy Care Center is located in Oracle and Winkelman, serving local families providing parenting education classes, children's story hours and a family diaper bank.
In 2018, we donated filled backpacks to the children and teens.
Creative Hands
The Creative Hands group meets from September through May every Friday at 9:00 AM to 11:00 AM at the church to design and create new clothing for children for the clothing bank at Catalina Community Services. In 2011 this small group created over 475 beautiful new garments for boys and girls. New "creative hands" are always welcome and no experience or equipment is necessary, training will be supplied. Also, remember both women and men are welcomed.
Impact of Southern Arizona
IMPACT of Southern Arizona (formerly Catalina Community Services) is among the many mission projects the Vista congregation generously supports. IMPACT helps area residents improve their lives through a variety of services. Vista's mission outreach team is currently involved with three programs provided by IMPACT.
COMMUNITY FOOD BANK: Donations of food and money are collected the first Sunday of each month. IMPACT gets more "value for the dollar" through cash donations they use to make bulk purchases. Donations of dry cereal, peanut butter, pasta and rice, canned fruit and toiletries are always in high demand for those who prefer to give tangible items. Approximately 400 different families in Pima County District One and the Pinal County Copper Corridor are served monthly through this program. CLOTHING BANK: Vista sponsors a warm clothing and bedding drive each winter. New and gently used items are donated to the Clothing Bank where they are sorted and displayed on racks at Loving Threads, a storefront in Catalina Point Plaza. Financially eligible area residents can periodically select needed clothing at no cost, which helps to stretch their limited income. SENIOR ACTIVITY CENTER: Vista volunteers enrich the lives of seniors who receive center based hot meals at the Senior Activity Center in Catalina Point Plaza through a monthly birthday celebration for individuals who have birthdays that month. In this way, participants are individually "lifted up" and celebrated for their special day. This has proven to be a bonding experience for regular attendees.
Snak Paks
Vista de la Montana UMC, in cooperation with Santa Catalina Catholic Church, each week during the school year provides a bag of nutritious, child-friendly food to 60 students at Coronado K-8 School in Catalina who have been judged to be nutritionally at risk. Most of these children depend heavily on the federally funded Free and Reduced-Price Breakfast-Lunch program at the school Monday through Friday. Vista and Santa Catalina purchase the food from the Community Food Bank of Southern Arizona through donations from their members and friends. Volunteers pick up the food from the food bank, package the food into Snak Paks and deliver these to the
school on Friday to be given to the students at the end of the day.
Memorial Day for Davis Monthan Air Force Base
In honor of those who has made the ultimate sacrifice, we remember Memorial Day during the month of May by collecting donations to provide phone cards for deployed troops from Davis Monthan Air Force Base in Tucson so that they are able to "call home". The contributions are divided between the phone cards and the family service program for deployed troops called "Hearts Apart". This program provides family assistance and programs for the troop's children.
UMCOR
We provide both monetary support and have mission trips to work centers for national and international disasters.
Labyrinth
This meditational space is located to the southeast and down the hill from the Sanctuary. It is a one way path: one path to the center and one path out again. There are no dead ends or places to get lost as in a maze. One should look at the walk as a three part process: purgation, illumination and union.
The Vista Sun Wheel (a medicine wheel).
The Vista Medicine Wheel was constructed on our church property to honor the ancient people nearby who also built just such an observatory. Theirs was larger and more complex, tracking rising stars as well as the equinox and solstice.
The Vista Sun Circle is 63 feet/19.2 meters in diameter thus 197.8 feet/ 60.2 meters circumference. The circular edge and central cairn are made of broken limestone, 4 to 12 inch random. The bed is decomposed ½ inch granite with fines, standard landscape material for southern Arizona. The center post is marked by a sandstone block about 30inch/75cm tall. That post is nearly buried due to recent addition to the mass of the cairn.
The solstices and equinox are indicated very well. This site has irregular horizons (mountains) and this is compensated for by the 6 U shaped viewing stations. Note, this will make most sunrise "late" and most sunset "early". Our truest level view and most accurate sunset time is during sunset, winter solstice. We work with what we are given! Amen.
Suggested visiting times: 1 hour before sunrise to 1 hour after sunset and all daylight hours. If the office is open check in as a courtesy.
Sturdy shoes are best to walk the gravel path. In warm weather wear a hat, bring water and watch for desert denizens! The toughest creatures I have seen in the time of construction were several horned toads and one gecko. These are a blessing from nature, live closest to the earth and see all. Please remain in the graveled area, do not go into the brush. Church policy does not allow overnight tenting/camping/RV parking on church property. Thank you for your consideration.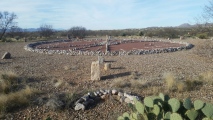 Photo Credit: James Bleess, Vista Sun Wheel creator